Miraloma Park Improvement Club
Neighborhood historian Rosalie Kuwatch writes, "Half the homes in Miraloma Park were finished in 1940, when, true to their plan, Meyer Brothers, built the clubhouse they had promised so the residents could form a voluntary association to maintain their planned community. Built on Del Vale Avenue off O'Shaughnessy Boulevard on land leased from the San Francisco Water Department for $1.00 a year, it was dedicated on November 10, 1940. The Department of Public Works graded the clubhouse parking lot in exchange for permission to store tools and equipment during the construction of O'Shaughnessy Boulevard. By July 1946, the combined Garden and Improvement Clubs had a membership of 1,000, an unequaled record in San Francisco. Organized community groups had significant political power and unified citizen action kept neighborhoods upgraded. The Miraloma Park Improvement Club has always been vigorous in pursuit of benefits and prevention of negative influences." Throughout its existence, the Club has continued in the tradition of defending the character of Miraloma Park, encouraging preservation of open space, careful maintenance of homes and respect for neighbors, and the continuation of the legacy of an open, lower density urban neighborhood of individualized homes graced with ample light and air – keeping Miraloma Park truly " a suburb in the City."
Miraloma Club notice celebrating their success in getting public transportation to the neighborhood and inviting residents to see Mayor Rossi pilot the first 36 bus from Forest Hill station on July 23, 1939. (Courtesy Miraloma Park Improvement Club.)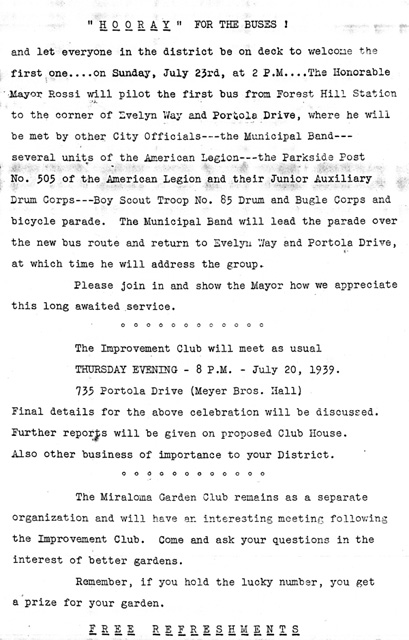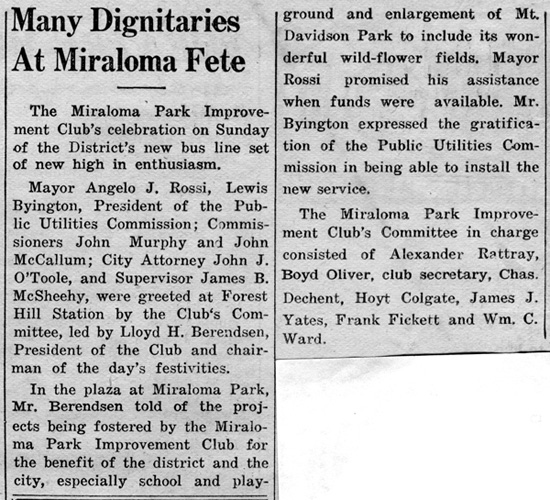 1939 article about Mayor Rossi driving the first 36 bus. The occasion was celebrated with a big parade of American Legionaires,Boy Scouts, and school bands at the business district on Portola Drive.(Courtesy Miraloma Park Improvement Club.)
Inside Muni," published in 1982 by John McKane and Anthony Perles:
7 MIRALOMA – Service commenced from Forest Hill Station, serving Twin Peaks Tunnel on July 23, 1939 via Laguna Honda Blvd., Portola Drive, Evelyn Way, and Teresita Blvd. to Rio Court. Line extended to Melrose Avenue on June 8, 1941. Coaches moved from Arguello Garage to 24th and Utah [Garage] on January 8, 1945. Line again extended to Foerster and Monterey, on October 6, 1945. Extended to Brighton and Grafton (K [street]car line terminal) on February 16, 1946, via Judson, Phelan, Ocean and Brighton to Grafton. Further extended on June 5, 1947, via Grafton, Garfield, Beverly, and Worcester to Junipero Serra Blvd., returning via Worcester, Junipero Serra Blvd., Garfield and reverse of route. Line moved from Utah Division [Garage] to the new Ocean Division [Garage] on August 1, 1948. Line renumbered 36 MIRALOMA on February 1, 1949. … 6-17-56 Terminal rerouted to Sickles & Mission. 9-10-80 Renamed 36 TERESITA."
(Image courtesy of the SFMTA Photo Archive.)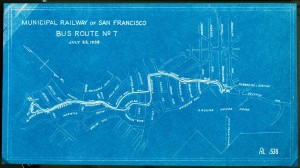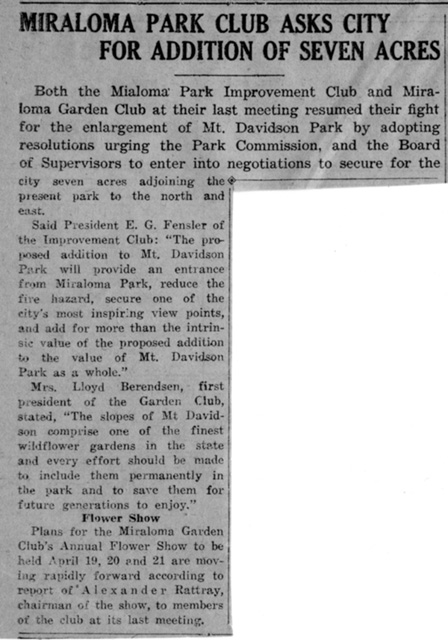 Miraloma Improvement and Miraloma Park Garden Club efforts to expand Mount Davidson Park in 1940. (Courtesy Miraloma Park Improvement Club.).
Early residents, together with other city and state organizations, fought off plans to build roads and a reservoir at the top of Mount Davidson to save the forest and panoramic city park. The city's highest water system tank at 900 feet was added in 1953. Holding 75,000 gallons, it is uniquely buried into the hillside to avoid impact to the visual enjoyment of the park.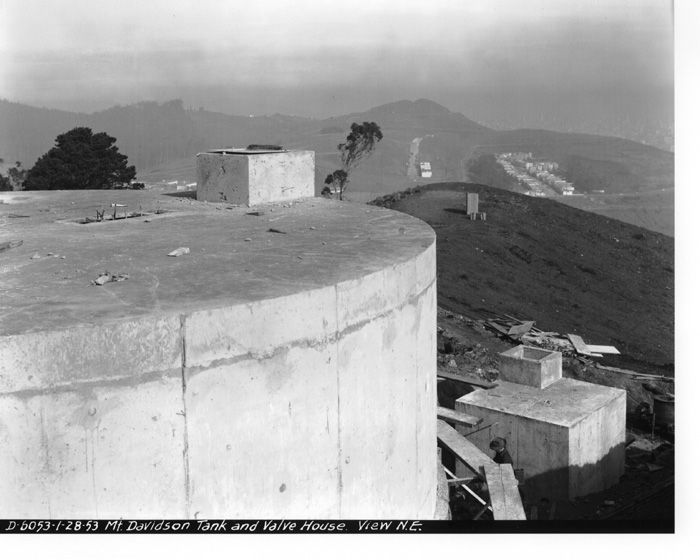 Mt. Davidson Tank and Valve House view northeast, January 1953.
Tank and Valve House in foreground looking west, January 1953.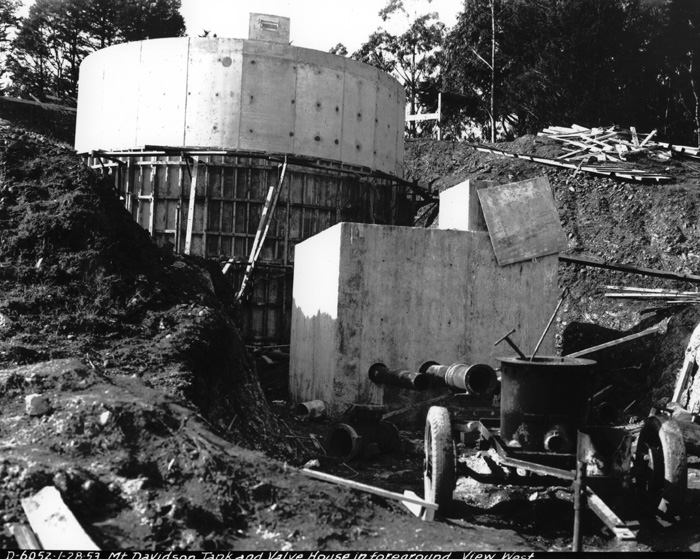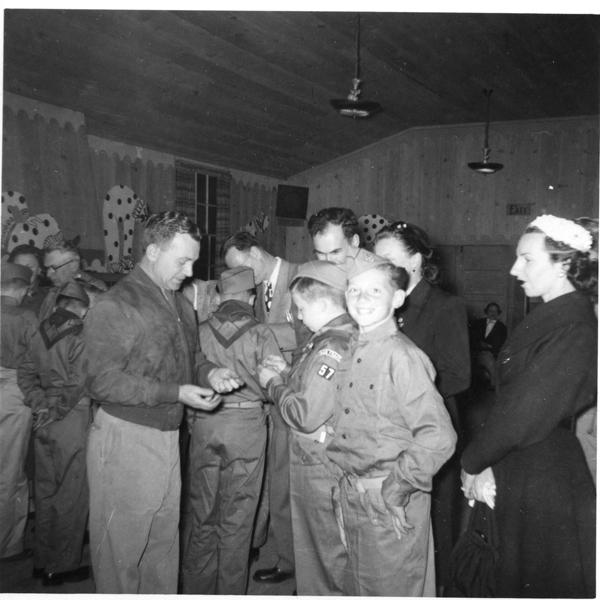 Miraloma Boy Scout troop event at the clubhouse in 1952. (Courtesy Bertha Jones.)
Bluebird fly up ceremony shown here in the clubhouse in 1954, led by Bertha Jones. (Courtesy Bertha Jones.)
Miraloma Park Camp Fire Girls Official Charter.(Courtesy Bertha Jones.)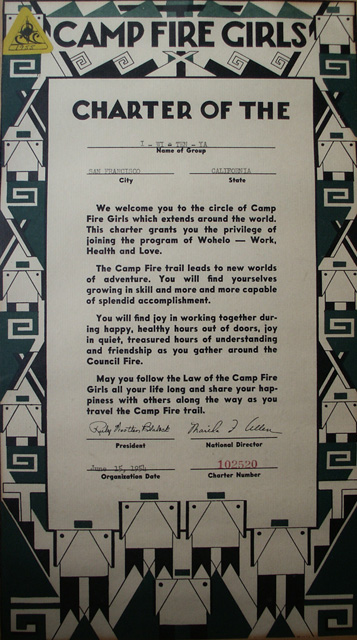 Gold Rush themed Scout-a-rama event in 1951.(Courtesy Bertha Jones.)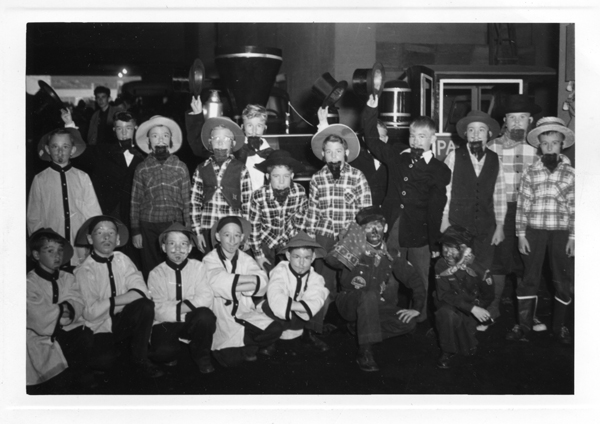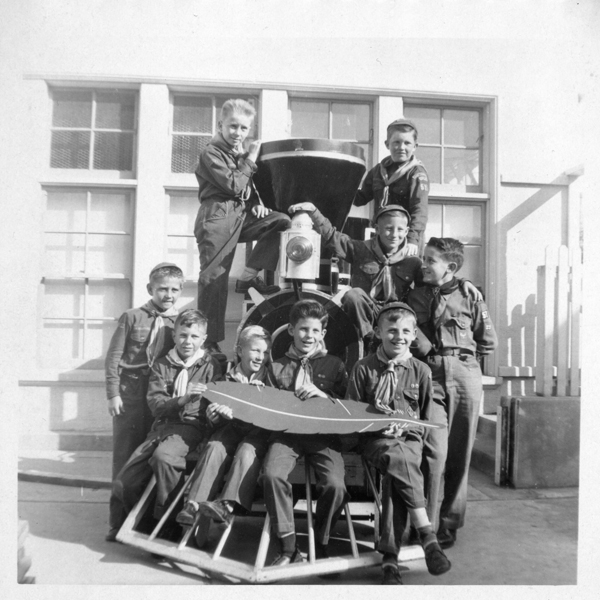 The Miraloma Cub Scout troop pictured here in 1951 on the life size train they made for their event and then donated to the Infant Shelter on 19th Avenue (now home to the Conservatory of Music. (Courtesy Bertha Jones.)
Miraloma Park Improvement Club membership application in the January 1955 issue of the Miraloma Life newsletter. (Courtesy Miraloma Park Improvement Club.)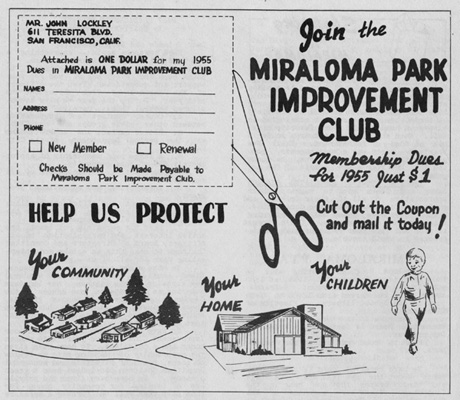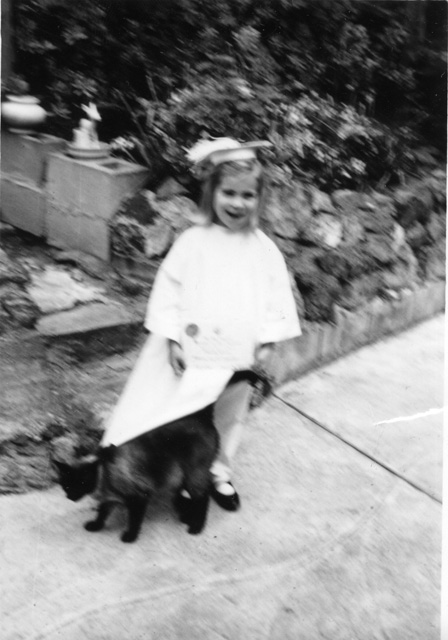 Tiny Tots graduate and future President of Miraloma Park Improvement Club, sixth generation San Franciscan, Cassandra Mettling-Davis, in front of her Aunt Sally's Teresita Blvd. home in 1964.(Courtesy Elizabeth Mettling.)