Miraloma Life
The Miraloma Park Improvement Club has published and distributed a free monthly newsletter, Miraloma Life, to the 2,200 home neighborhood since the 1950s. Funded by advertisements from local businesses, it has provided notification of monthly club meetings and events, in addition to news from the Miraloma Church, articles about local business owners, Miraloma School and P.T.A., Boy Scout and Campfire Girls activities, and information about family births, deaths, visitors, and travels. (Courtesy Miraloma Park Improvement Club.)
Gallery
Sample notice distributed to neighborhood in 1940 before publication of Miraloma Life newsletter.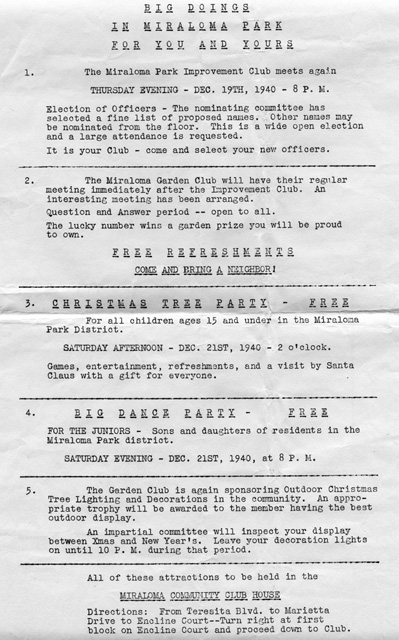 By 1955, Miraloma Life was a multipage newsletter. Feature stories included Presidents Message, Editorial, Miraloma Church News, The Stork Reports, Merchant of the Month, Miraloma Cooperative Nursery School (located at 480 Teresita Blvd.), Troop 57, Campfire Girls, Whist Club, Folk Dance News, Shopping in Miraloma, Miraloma PTA, and Mountain Chatter.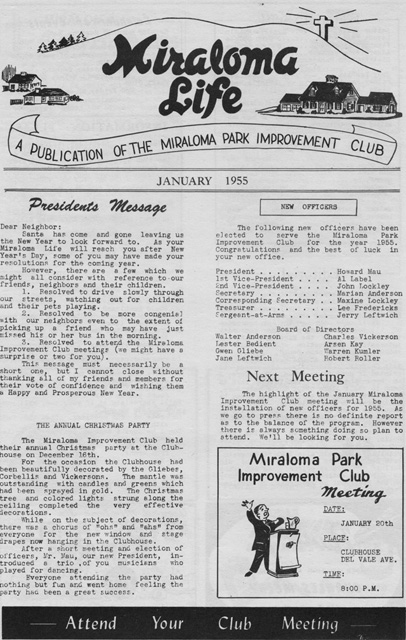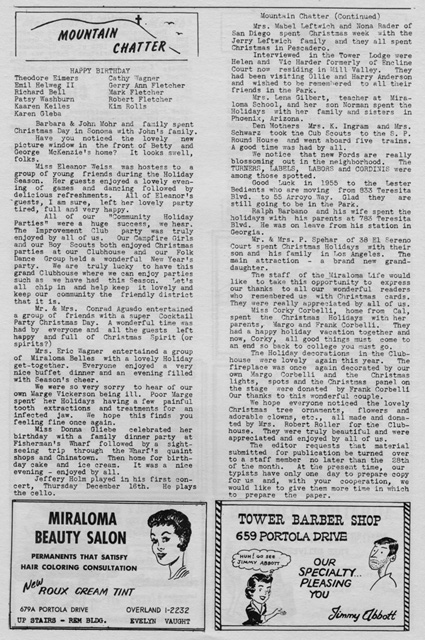 Miraloma Life "Mountain Chatter" January, 1955, "Mr. and Mrs. Conrad Aguado entertained a group of friends with a super cocktail party Christmas Day. A wonderful time was had by everyone and all the guests left happy and full of Christmas Spirit (or spirits?)".