Snow
Snow falling in San Francisco is always an historic day and has been recorded to have happened one day in eleven different years between 1856 and 1976. The most snow recorded, 7 inches on Twin Peaks, fell on February 5, 1887.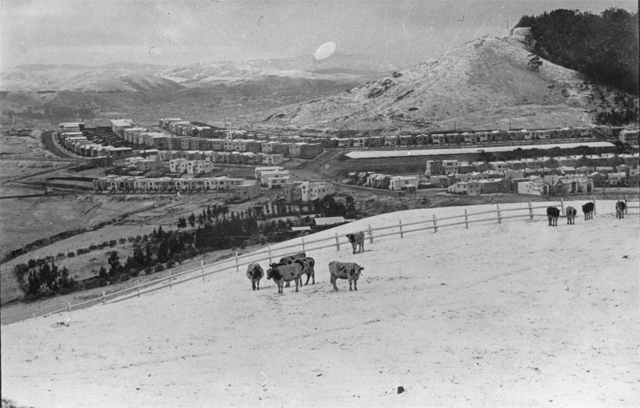 When snow fell on Dec. 9, 1932, the San Francisco Chronicle wrote, "Snow! Astonished residents of San Francisco saw it come down in flakes the size of quarters – and pile up on the ground! It lay on the ground, covering lawns and roots, decorating trees and covered Twin Peaks. It snowed throughout the city – in the Mission, Sunset and Richmond districts and in St. Francis Wood and in Golden Gate Park. Flakes fell on Market Street, falling on the hurrying theater crowds and whitening the shoulders of of newsboys. Delighted youngsters bolted to the streets to plunge into rollicking snowball fights and gather enough of King Winter's mantle to build breastworks and snowmen. Santa Claus shook the frost out of his whiskers and declared it would be no day for boys and girls to pine away in school."
Teresita Blvd. at Bella Vista in 1976.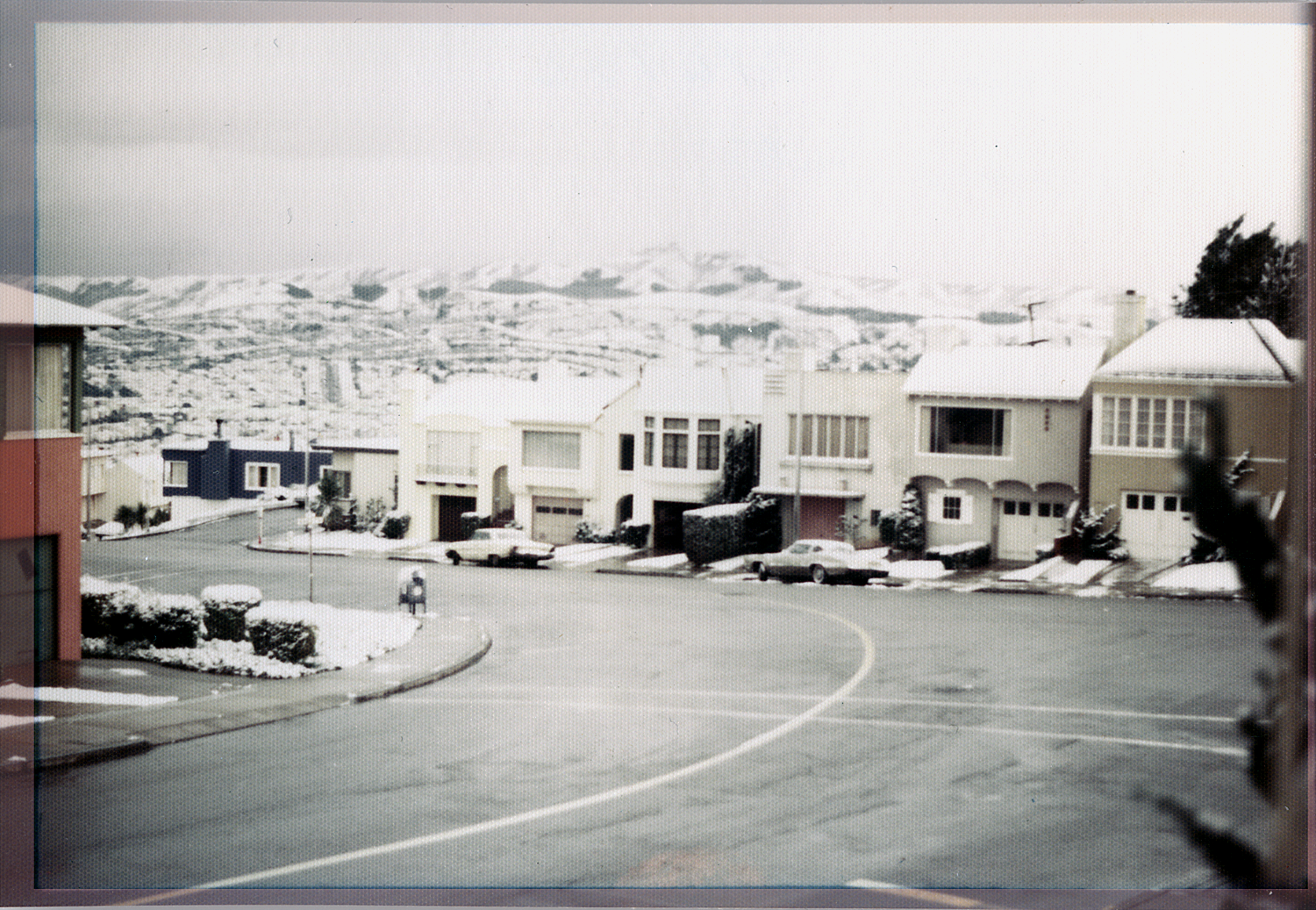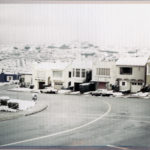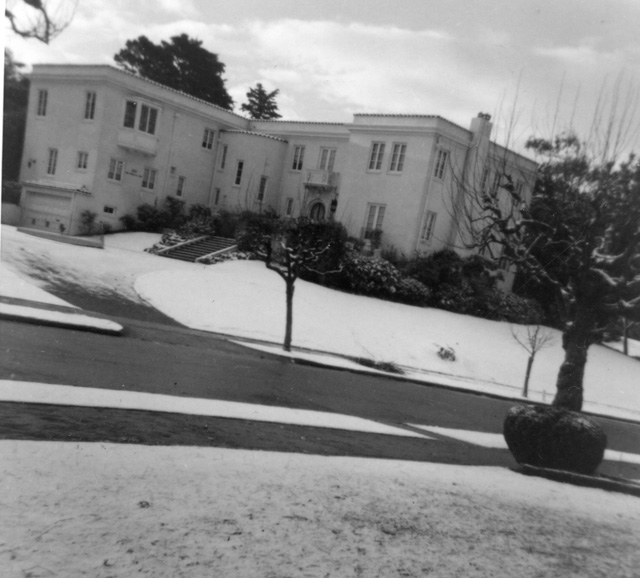 Gallis House in St. Francis Wood on January 21, 1962 when up to three inches was unofficially recorded in the Sunset and Westlake Districts. (Courtesy Dave Bisho.)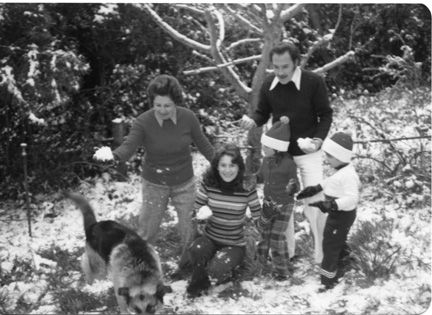 Pinto family celebrating the unusual snowfall at their Sherwood Forest home on February 5th, 1976. (Courtesy Denis Pinto.)
Snow covered trees in front of the Pinto home. (Courtesy Denis Pinto.)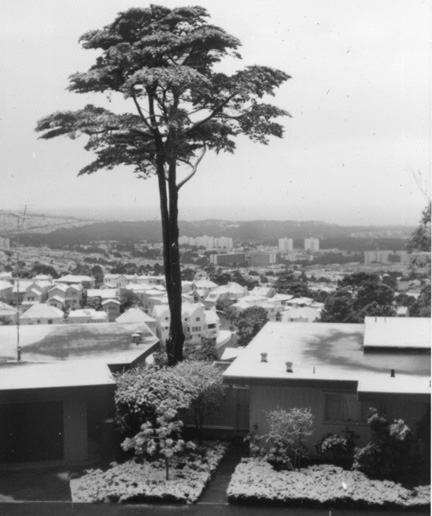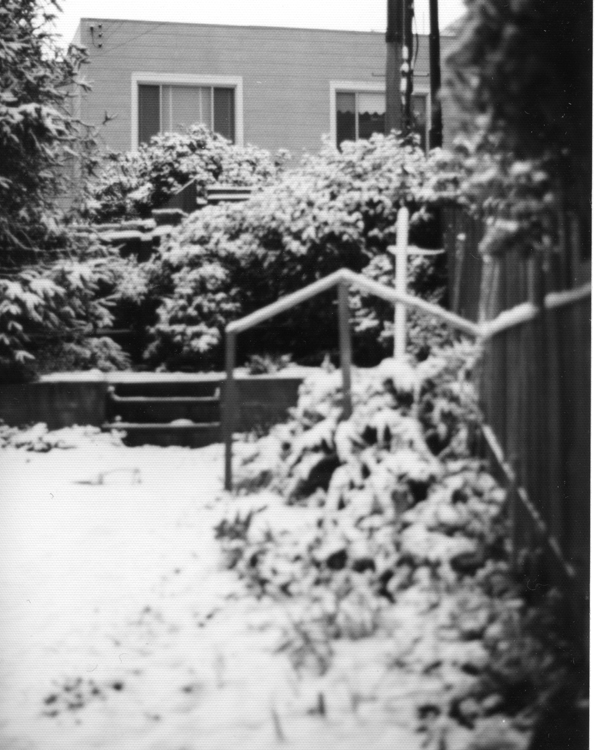 Backyard of Teresita home in Miraloma Park in 1976. Up to five inches was recorded at the top of Twin Peaks. (Courtesy Bertha Jones.)
View of 1976 snowfall in Balboa Terrace. (Courtesy Joann Wentker.)