Sherwood Forest
Sherwood Forest, located West of Twin Peaks on the southwest slope of Mount Davidson, is themed around the folklore of Robin Hood, containing the streets, Lansdale, Dalewood, and of course, Robinhood, the highest residential street in the city of San Francisco, still decorated with the original globe streetlights. The small, three-by-two block community of about 200 homes nestled among the trees planted by Adolph Sutro and above prestigious St. Francis Wood, has been nicknamed "Pill Hill," due to the many doctors living here. On some of the City's largest lots with panoramic ocean views, are custom homes dating back to the 1930s designed by noted architects Julia Morgan, Timothy and Milton Pflueger, as well as, Harold G. Stoner.  Mayor John Shelley built a mansion on Robinhood Drive and Mayor George Moscone lived at 90 Lansdale. (Courtesy Jim Ferry, Michael and Bob Deliso.)
"Crowning this neighborhood on the southwesterly slope of Mount Davidson are some of the more elaborate ranch-style homes to be found in San Francisco. One has white colonial style columns and a weathervane atop its carriage house. Another has enough rocks in its retaining wall to dam Islais Creek. There is a sort of English manor house. And groves of eucalyptus, cypress and pines in the gardens. Southerly and easterly, the homes are smaller and closer together. Sandwiched between Sherwood Forest and Miraloma Park is Sherwood Heights, an upper middle class neighborhood of postwar-era homes. The dense groves of Mount Davidson are just outside most of its doors."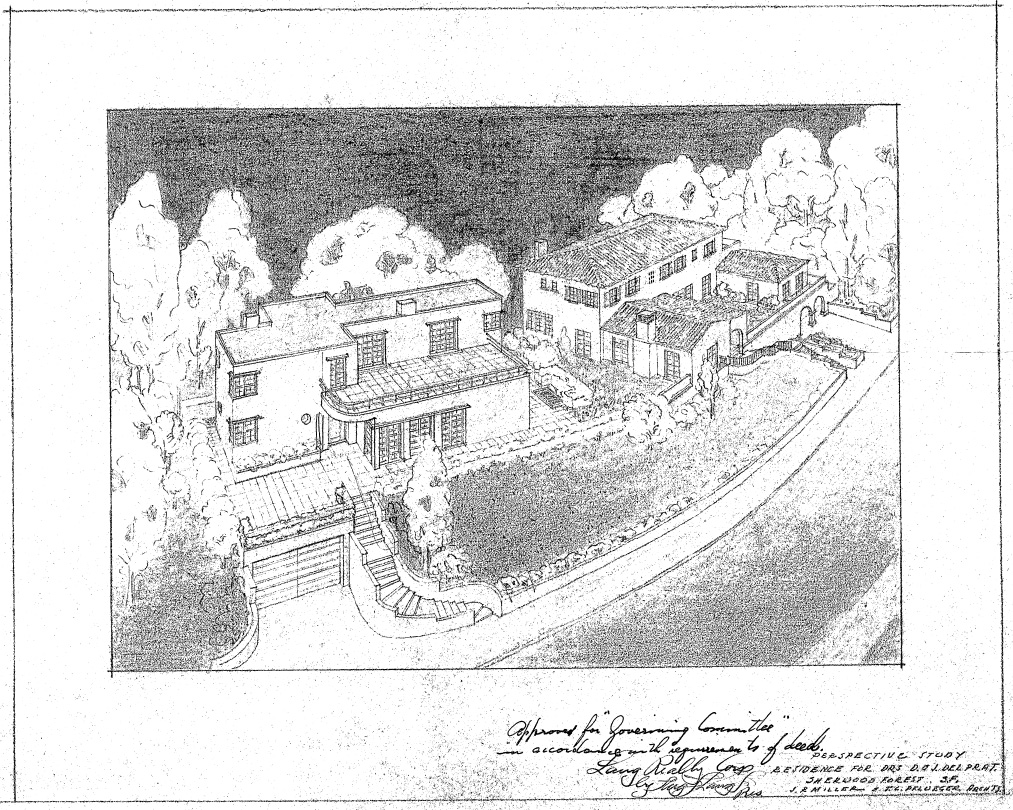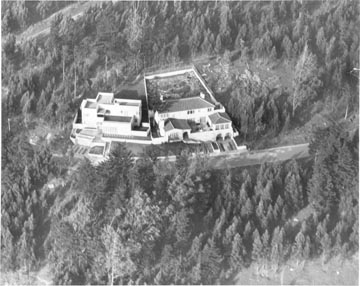 Timothy and Milton Pflueger designed two of the earliest houses to be built in Sherwood Forest for Doctors Volmer and Delprat. Dr. Dan Delprat was the partner of their brother, Otto Pflueger. Milton Pflueger wrote that he and Tim went up in a small plane and flew around the Bay Area and took the photo, seen above. Milton was the project architect under direction and supervision of Tim. The perspective sketch is signed by developer August Lang on behalf of the Sherwood Forest Neighborhood Association Governing Committee. (Courtesy Denis Pinto and John Pflueger.)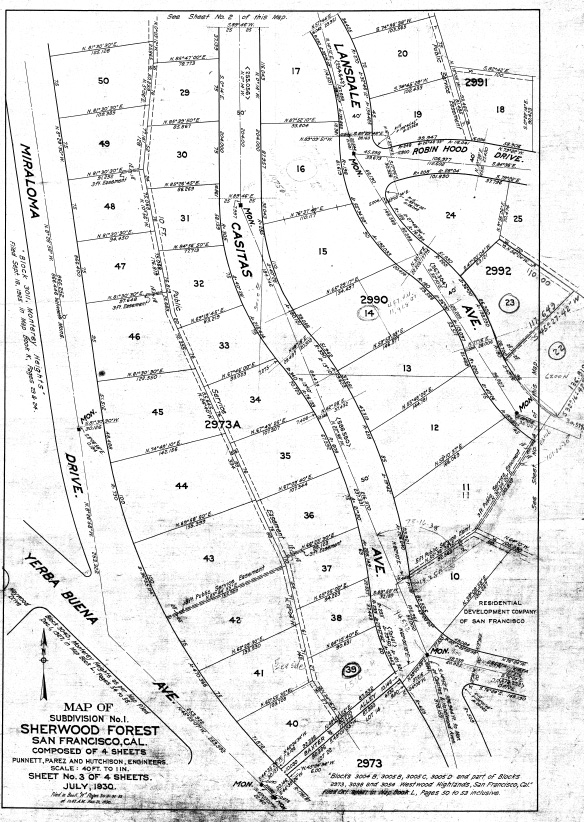 One of four Sherwood Forest subdivision maps by Punnet, Parez, and Hutchinson dated July 1930. Willie Mays would later purchase a home on one of the lots seen here on Miraloma Drive. (Courtesy of Denis Pinto and John Pflueger.)
Timothy Pflueger designed the medical building at 450 Sutter Street – the last skyscraper to be built in San Francisco until after World War II. His Pacific Telephone and Telegraph Building at 140 New Montgomery Street was the first San Francisco building over 20 stories high. (Courtesy John Pflueger.)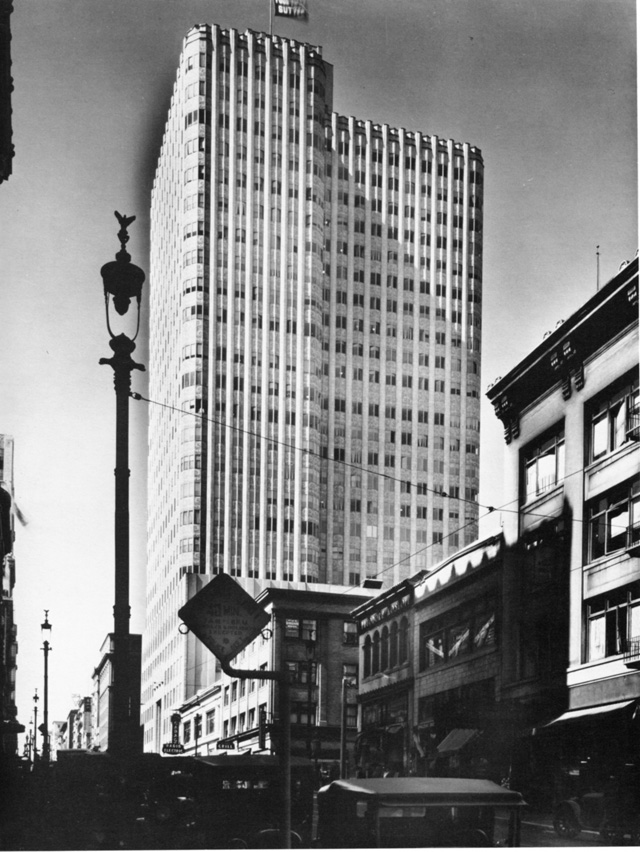 The beautiful Art Deco interior of the lobby at 450 Sutter Street gives off the impression of a Mayan temple, with its metal carvings of pagan gods and walls of deep reddish and black Levanto marble. (Courtesy John Pflueger.)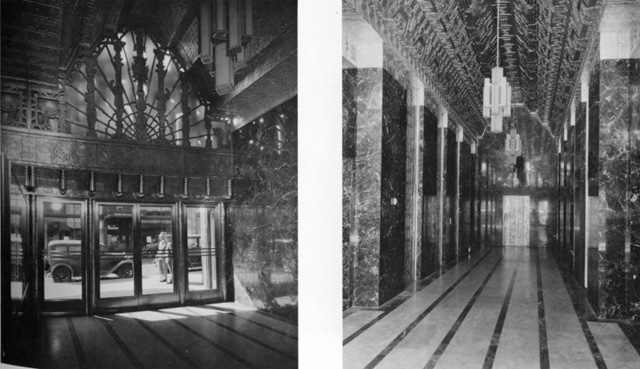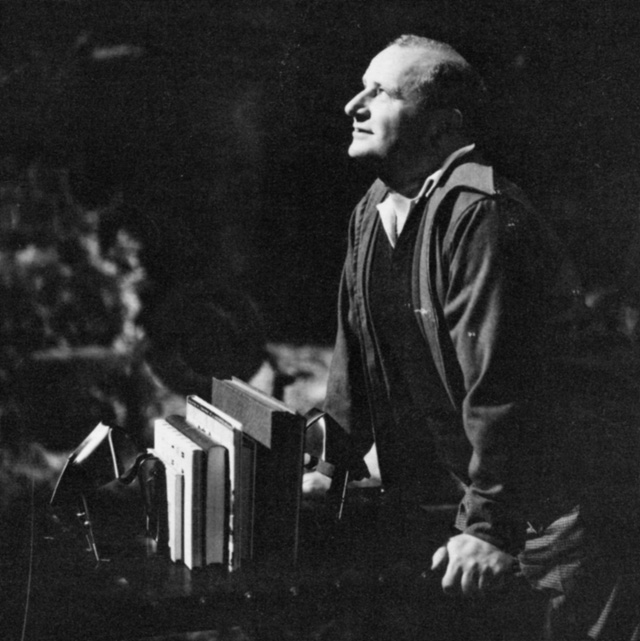 "Timothy Pflueger was one of the most significant architects in San Francisco in the 1920s,30s, and 40s, designing such landmarks as the Pacific Telephone Building, the Paramount Theater, the Castro Theater, 450 Sutter Street, the Union Square Garage (the first of its kind), and the I. Magnin department store." When he died suddenly in 1946 at the age of only 54, his brother Milton, and nephew, John, continued Pflueger Architects, the City's oldest continuously operating architectural firm. (Courtesy John Pflueger.)
An iconic Art Deco sculpture by Robert Boardman Howard http://www.aaa.si.edu/collections/interviews/oral-history-interview-robert-boardman-howard-13247 facing west to the grand view of the Pacific Ocean anchors the entrance to the Streamline Moderne style home built for Drs. Delprat. A derivative of Art Deco, the horizontal and rectangular design utilizing concrete, stucco, and metal surfaces was featured at the 1939-40 Golden Gate International Exposition. The work order shows a payment of $50 for the sculpture. Howard, the son of architect John Galen Howard, also worked with Tim Pflueger on the Paramount Theatre and the San Francisco Stock Exchange. (Courtesy Denis Pinto and John Pflueger.)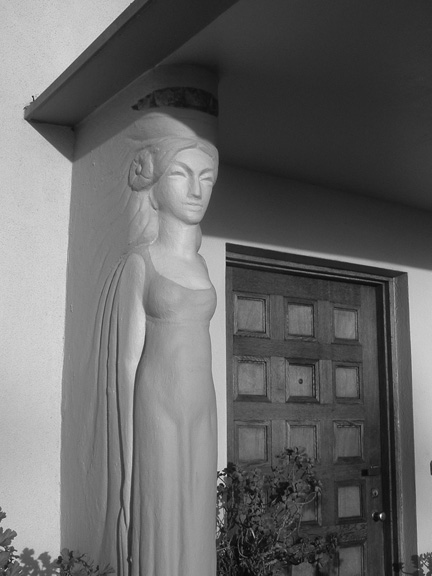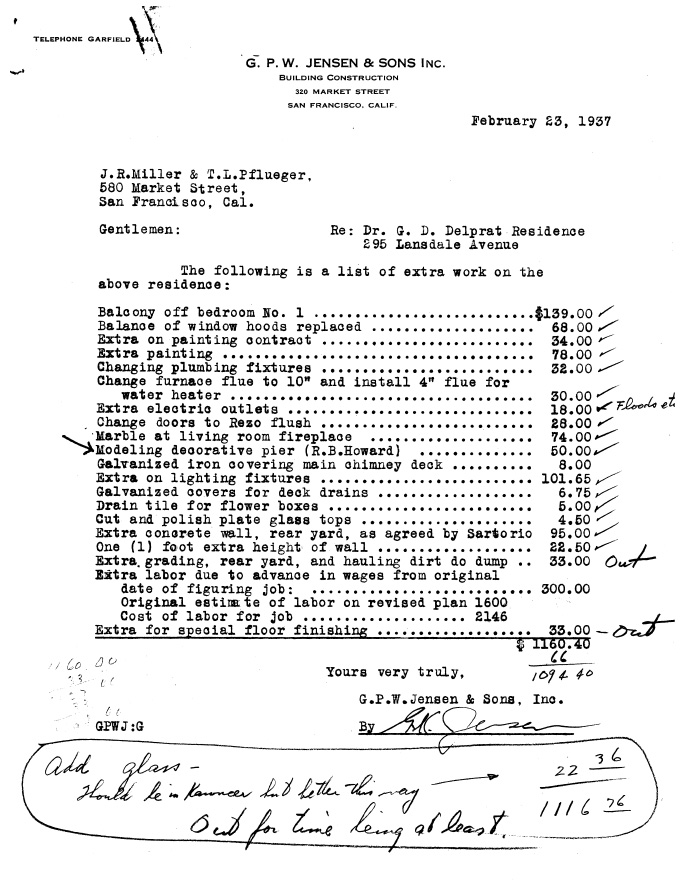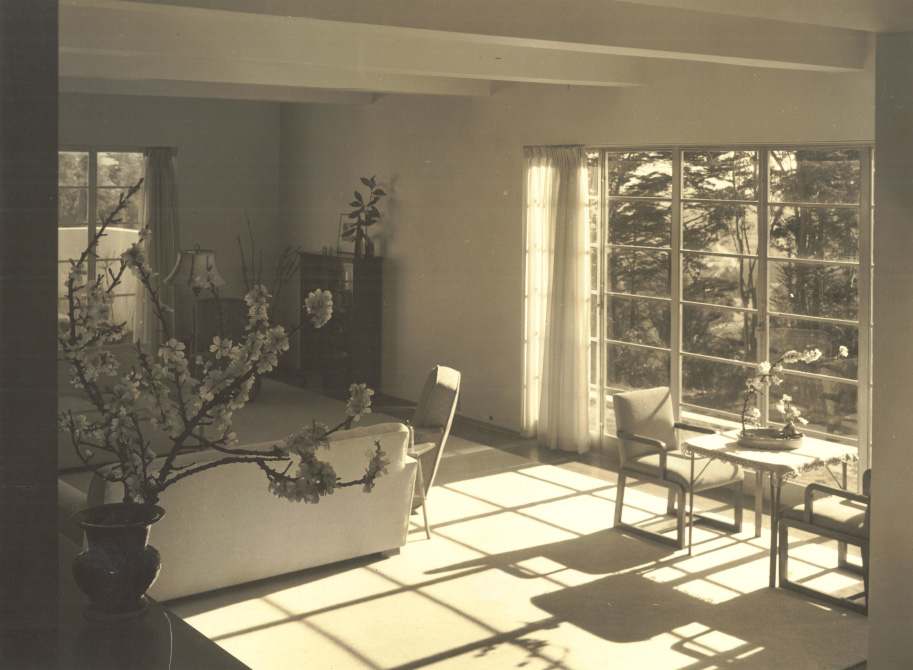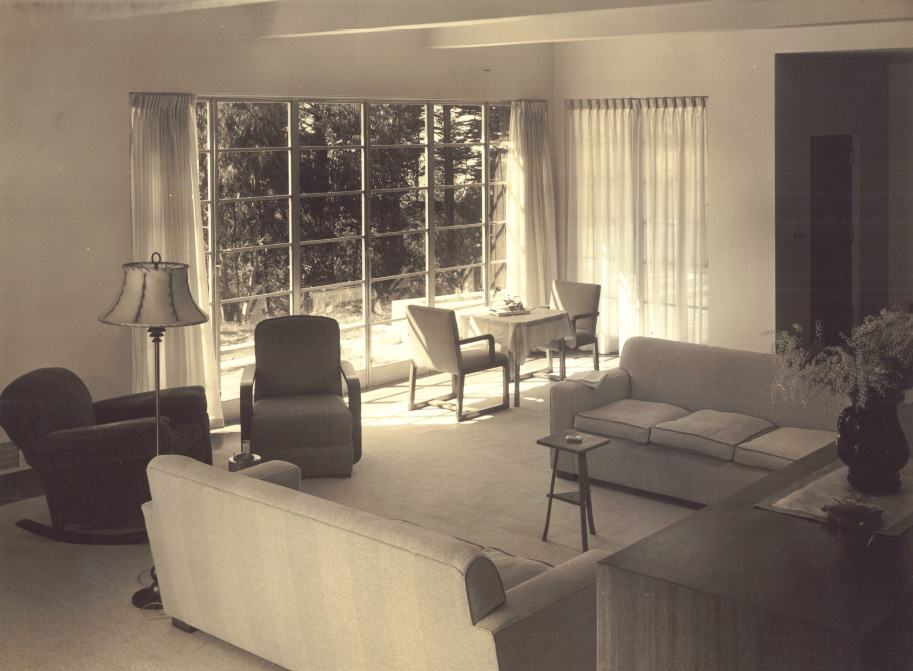 The building permit for the home, which cost $18,000 to build, was issued on March 20, 1936. These photographs of the Delprat home's Streamline Moderne interior were featured in the February 1940 issue of Architectural Forum. (Courtesy John Pflueger and Denis Pinto).
The Pinto family was outgrowing their home on Rosewood Drive in Monterey Heights when Dr. Pedro Pinto, M.D., bought the Delprat home in 1969. Coincidently he had attended a party given here by Dr. Delprat when he was an intern. The sale included the lot next door where his five boys had lots of room to roam before it was sold. Mrs. Alicia Pinto, in front of the house with her brother, Patricio Perez, visiting from Quito, Ecuador. (Courtesy Denis Pinto.)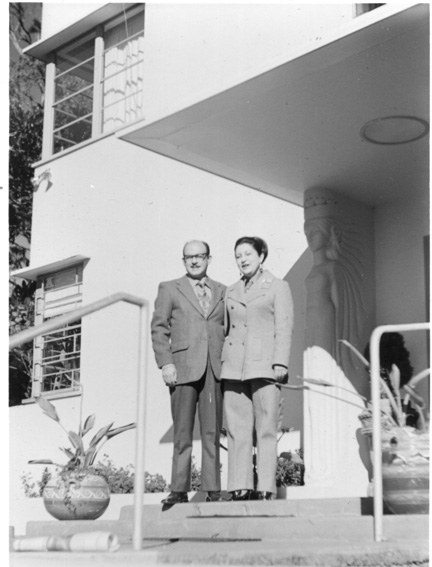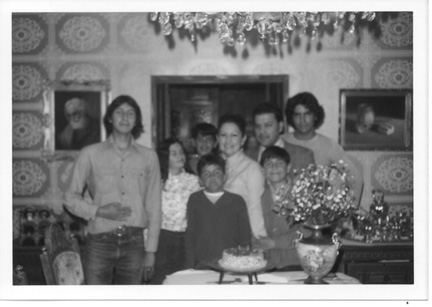 Pinto family in their Sherwood Forest dining room in 1972. Far left is Denis Pinto next to his young Aunt Fina visiting from Quito, Ecuador for a year or two. Front center is Norman, the youngest. Directly behind Norman, is Nelson Pinto next to their mother, Alicia, and father, Dr. Pedro Pinto. Second from right is Richard Pinto. The oldest of the five boys, Peter-Stephan Pinto, far right. (Courtesy Denis Pinto.)
In an article for the San Francisco Examiner in 1954, Milton Pflueger wrote about the home he designed for his family on Robinhood Drive: "One of my favorite houses is located in San Francisco, on the southwest slope of Mount Davidson. I have chosen it because I feel it demonstrates that those advantages which are sometimes thought to be available only in our suburban communities can be matched right here in the City. This house, which we designed for our own, is a modest, contemporary home, with an in-line plan conforming to natural slopes…A structural system of exposed roof beams on wood posts, with exposed roof sheathing, employed throughout, contributes to the unity and interest. Roof overhangs are generous. An all redwood exterior with accents of yellow at the projecting roof facias was used." (Courtesy John Pflueger A.I.A.)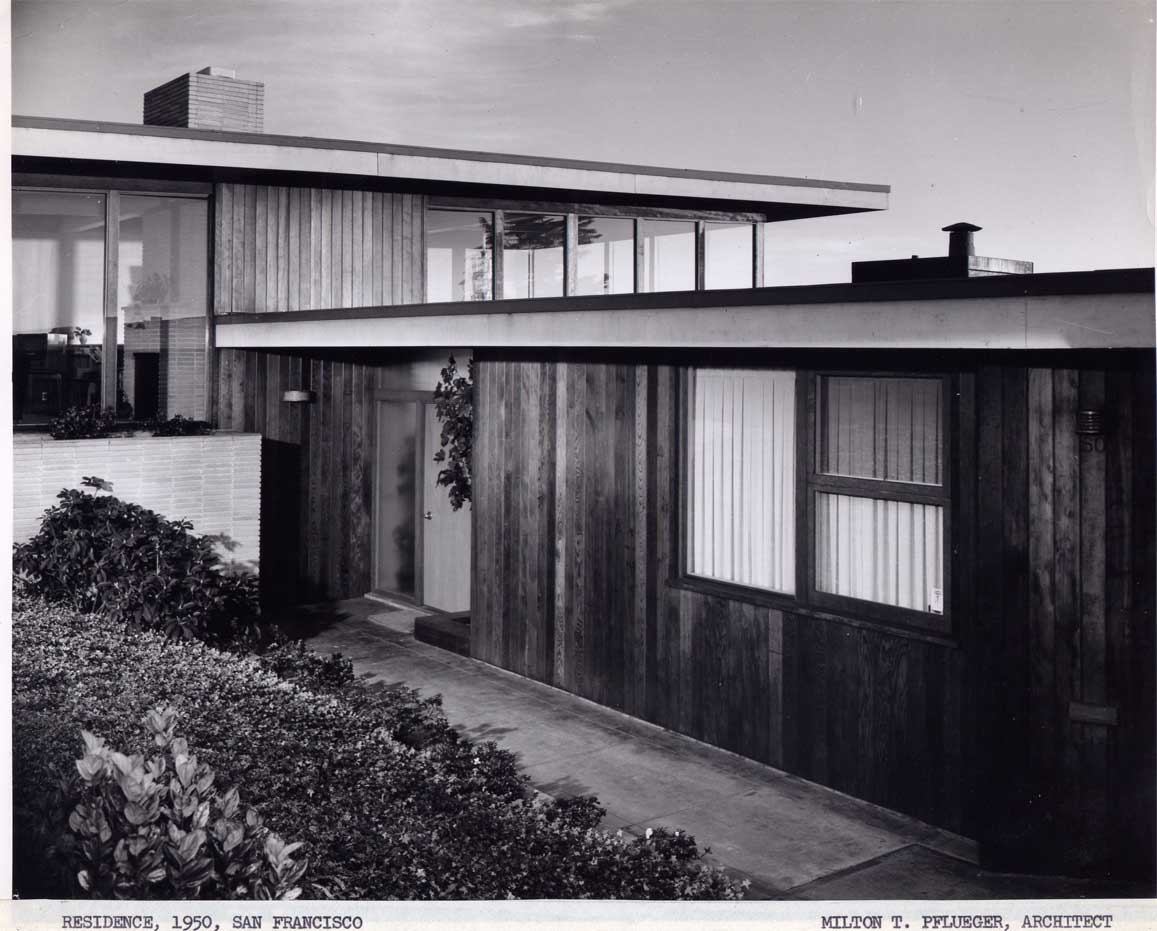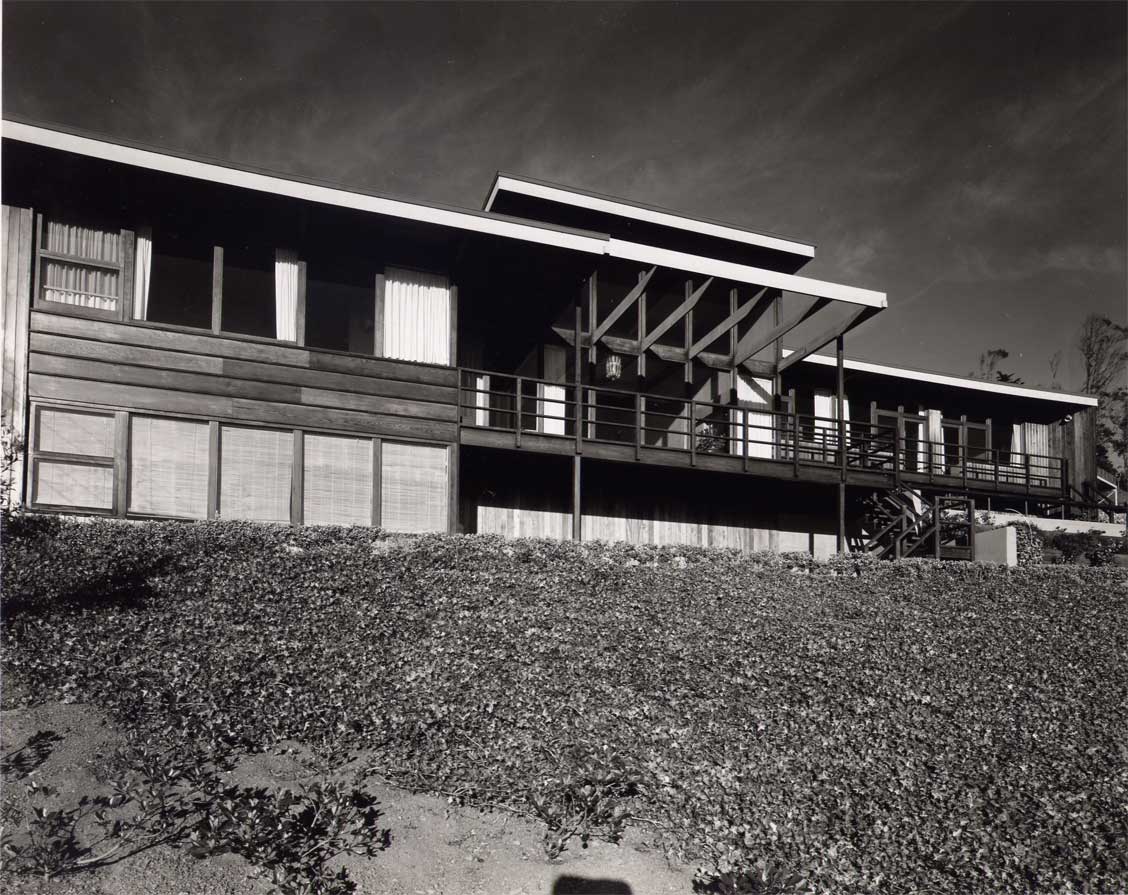 "All main rooms open to the rear and the steep slope affords view, sun and outdoor living as well as privacy from lower houses…The living room terrace and lower lawn terrace provide outdoor living which, let no one say, is not thoroughly enjoyable and practical in San Francisco, particularly when our hills provide such site possibilities."(Courtesy John Pflueger.)
"A half-story difference in level, dictated by grades, separates the primary living area from the sleeping area. The two-level living room affords ample entertaining space on the low level…The living-dining area walls are finished in oak plywood. Plank oak flooring, indirect lighting, golden tan Roman brick in the double fireplace, the typical exposed wood ceilings, provide a warm neutral background which in combination with the glass walls and clerestory windows to the west, provides spacious uncluttered living space."(Courtesy John Pflueger.)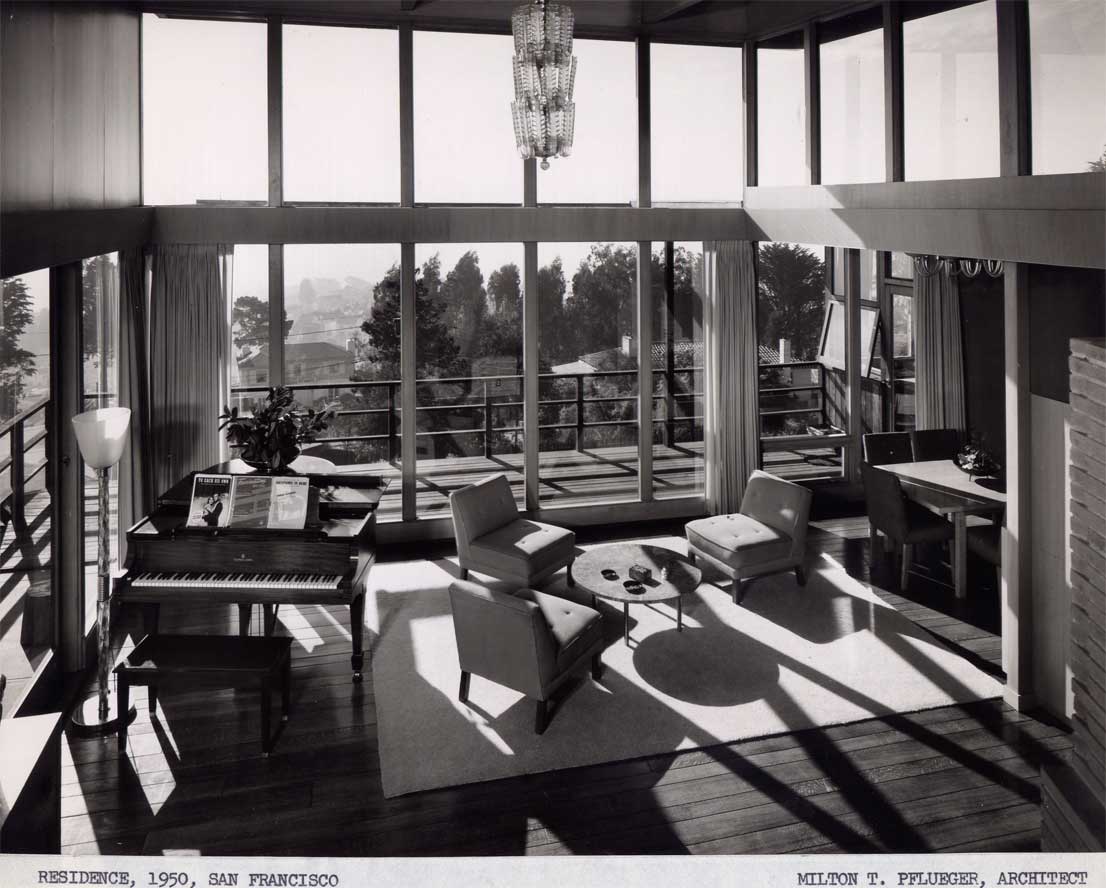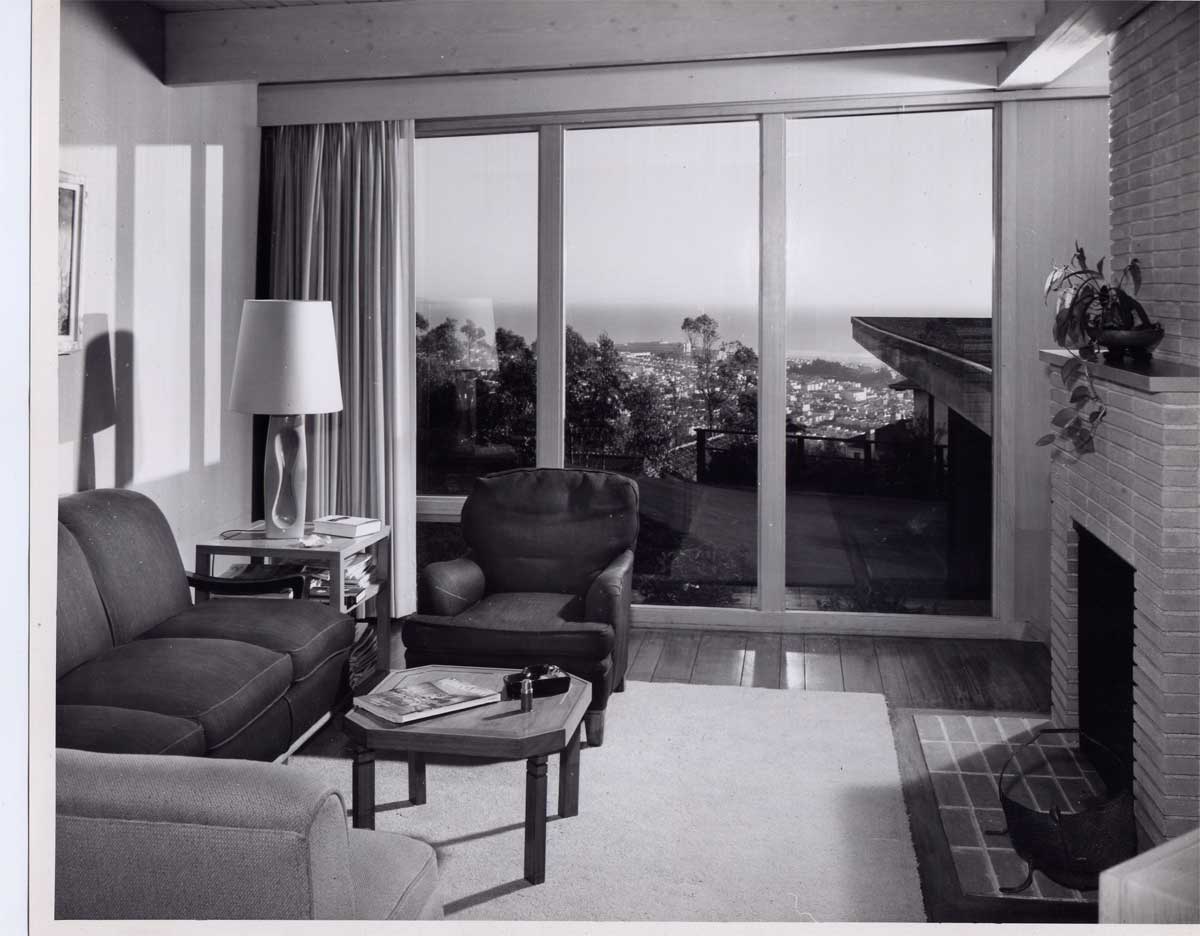 "The sweeping indoor and outdoor views of city, hills and ocean, added to a natural, straightforward design, have combined to provide ever-interesting, practical and thoroughly enjoyable living." Milton built his city house with country atmosphere in 1950 for $45,000.(Courtesy John Pflueger.)
Living on the mountain named for the President of the California Academy of Sciences in 1872, George Davidson, Milton and his son, John, carried on the Pflueger architectural tradition in San Francisco, designing Cowell Hall, the GHC Meyer Fish Roundabout, Wattis Hall of Man, and McBean Peterson Gallery, for the Academy, in addition to landmark buildings for the University of San Francisco, Moffit Hospital and Mulberry Union at the University of CA Medical Center, Shriners Hospital, Ebenezer Lutheran Church, and most of the buildings at San Francisco City College, many at Stanford University, the entire Holy Names University Campus in Oakland, and Clark Library at San Jose State University. Learn more about the Pflueger Legacy at http://www.johnpfluegerarchitect.net/. (Courtesy John Pflueger.)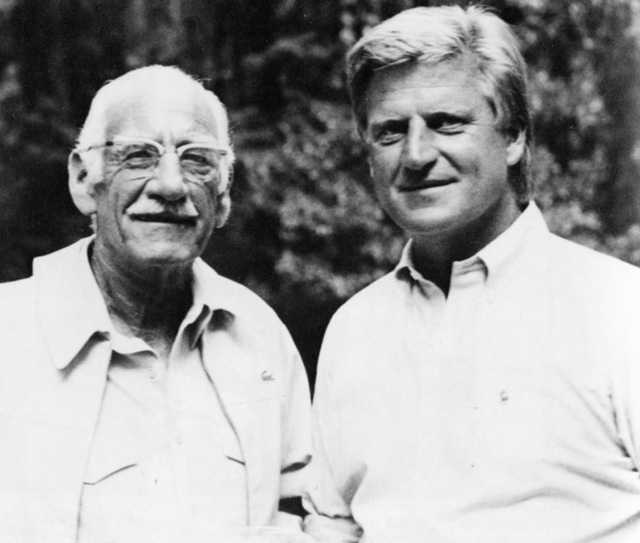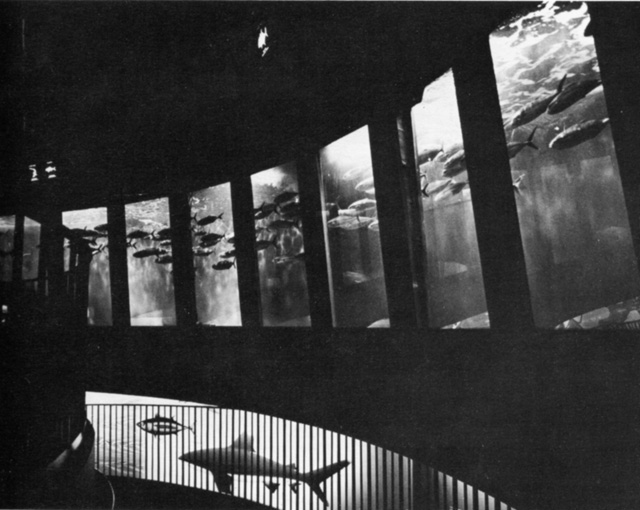 Doctor Otto Pflueger also lived on Robinhood Drive, at Lansdale. Richard Angotti, the owner of a Angotti Ambulance Company later lived here.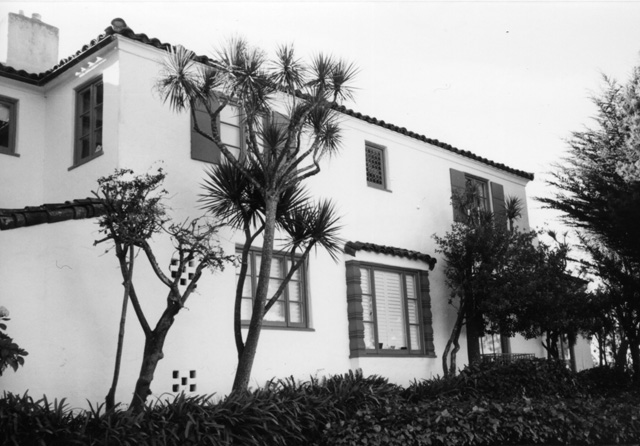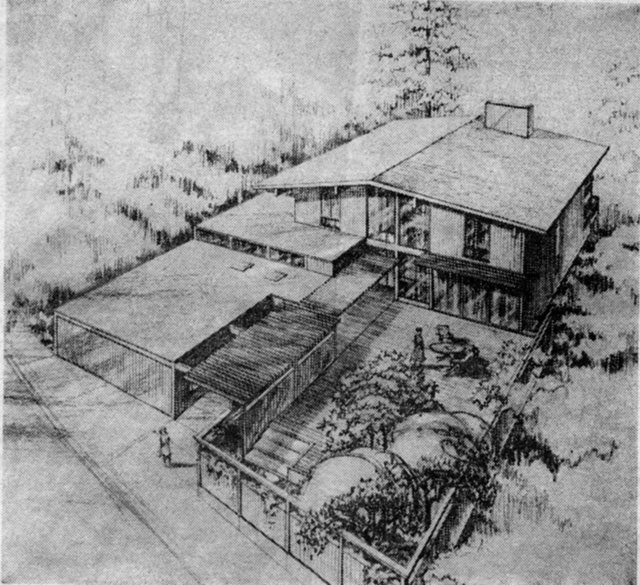 Mayor and Mrs. John F. Shelley were in the local news when they hired architect Robert Bachelor (after he designed nearby 101 Robinhood Drive) to design a two-story 10-room, five bath 5700 square foot home costing more than $110,000 in 1964 between Nos. 111 and 123 Robinhood Drive. The "mansion" was built by Alex Maisin, the longshoreman contractor who put up Willie Mays' second home West of Twin Peaks in Forest Hill. The mayor never lived in the house, however.(Courtesy Jim Ferry.)
While Herb Caen got lost on his way to Thanksgiving dinner here in 1986, the neighborhood has been lighting the way on Christmas Eve for over 20 years with luminaries. (Courtesy of Bob Deliso)