Easter Sunrise Service 2021 Cancelled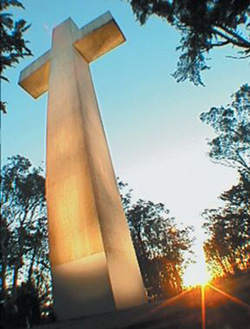 San Francisco's grandest Easter morning tradition will be cancelled for the second time since 1923 because of the Covid-19 pandemic. This year's citywide celebration atop the City's highest peak would have marked the 98th anniversary of the event.
Community leaders usually taking part in the non-denominational city-wide celebration at the foot of America's largest cross include Rev. Jeff Mammen of New Life Church, Rev. Mesrob Ash of St. John Armenian Apostolic Church, Pastor Alex Cabansagan of Family Christian Fellowship, Rev. Robert Burns of Christian Counseling Centers, Pastor Seng Chin of Christ Church San Francisco, Rev. Christine Hung of the Northern California District Church of the Nazarene, and retired San Francisco Fire Chief Joanne Hayes-White. The program also features music by the Salvation Army Brass Ensemble and Lynne Miller of The House of Bagpipes.
Situated at the summit of Mt. Davidson (elevation 938 ft.), the historic 103-foot-tall cross will once again be illuminated by spotlights throughout Saturday evening April 3rd, shining as a beacon for Easter morning. (Note: great location shot at the corner of Robinhood Way and Lansdale Avenue on Saturday night).
Sponsored by local churches and broadcast nationally in years past, the Easter Sunrise Service attendance record was set during World War II, with an estimated 50,000 worshippers in attendance.
Originally dedicated by President Franklin D. Roosevelt in a transcontinental ceremony in 1934, the 103-foot-tall Mt. Davidson Cross has been restored by the Council of Armenian-American Organizations of Northern California, owners of the monument.
With the sun rising over the East Bay hills, Mt. Davidson Park's beautiful forest setting serves as a spectacular backdrop for this cherished Easter event. Adding to the visual appeal of the panoramic view of San Francisco Bay and the downtown skyline at dawn is the dazzling springtime array of wildflowers currently in bloom.
Enjoy early movie footage of this tradition from the 1920s provided by the Western Neighborhood Project and this video of the Cross history: Mount Davidson: San Francisco's Hidden Treasure.